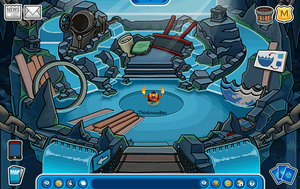 The Water Dojo is a Member Only Room where Ninjas can become Water Ninjas by Challenging Sensei.
When players throw Snowballs, they turn into Water Balloons.
It played music "The Way Of Sensei" that many penguins thought was the battle music.
Normally a big box of the same items means they are free items, but the water balloons at the side were just snowball ammo.
Non members can enter the room by clicking this link here, as it is a glitch.
You can throw water balloons in this room.