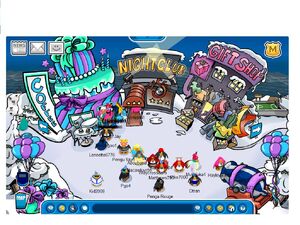 The
Town
(or
Town Center
) is the main area in
Club Penguin
. The town is usually the congregation point of many
Penguins
as it is the first area that
Penguins
join unless there are one hundred
Penguins
already in the town, in which case it will flood off into other places. The town has no games but it is an easy way to access the
Coffee Shop
, Night Club,
Snow Forts
,
The Dock
and
Gift Shop
and more places. It is also usually well-decorated for parties or at least always decorated. There are more
Penguins
in middle, they are idle [[Penguins
]]
who have typically just arrived into the room. The town is usually very crowded. Commonly,
Penguins
advertise their parties or other events here. Along with the
Plaza
, it is one of the most visited
rooms
on
Club Penguin
.
The Town on the old mapAdded by Sharkbate===2005Edit===
During the Beta Test Party, it had a banner hanging from the Coffee Shop that read "BETA TEST PARTY", and there were two boxes of party hats.
During the Halloween Party 2005, not much was decorated, except that there were orange lights at the Night Club instead of the white ones, and there were a few cobwebs around.
During the Underwater Expedition, the Town was tilted to the left and had a poster for the Underwater Maze. Oddly it was otherwise undecorated.
During the Rockhopper's Quest, the Town had a sign added directing penguins to the beach. It was otherwise undecorated.
During the Puffle Party 2012 The Town was well decorated not like the other parties it had the furry puffle toy A big purple puffle It is like the Puffle Party 2011 I cant really tell what it looked like
When a penguin was created and first logged in before June 27, 2011, the first place he/she started out at was the Town, unless it was full.
According to Screenhog on a blog post, pins are never hidden here because it is the busiest room in Club Penguin.
The Town is one of the room that is always decorated during parties, even if it's just a little bit!
According to the information supplied by the pre-written Tour Guide text, when Club Penguin has a party, the Town is very well decorated for it.
There is a sneak peek to a new room in a book. It has been revealed that the book is The Awesome Official Guide To Club Penguin.
Many Penguins go here to spread news about a Party at their Igloo.The Town (or Town Center) is the main area in Club Penguin. The town is usually the congregation point of many penguins as it is the first area that penguins join unless there are one hundred penguins already in the town, in which case it will flood off into other places. The town has no games but it is an easy way to access the Coffee Shop, Night Club, Snow Forts, Dock and Gift Shop and more places. It is also usually well-decorated for parties or at least always decorated. There are more penguins in middle, they are idle penguins who have typically just arrived into the room. The town is usually very crowded. Commonly, penguins advertise their parties or other events here. Along with the Plaza, it is one of the most visited rooms on Club Penguin.&nbsp