The Night Club is the middle building found in the Town. It is composed of two stories, the first is the Dance Club and the second is the Dance Lounge. Underneath the Night Club (with the entrance hidden in a speaker) is the Boiler Room. In the Night Club you can play DJ3K and Dance Contest. On June 26, 2009, an game upgrades catalog (for DJ3K) was added to the Night Club. The Dance Club is one of the oldest rooms in Club Penguin, even tracing back to Penguin Chat 3.
There was no music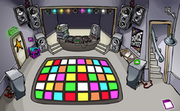 in the room in early 2006, but it had music in late 2005.
When it is not a party, when certain amounts penguins change to a designated color, the lights will change to that color, and the more penguins in the room, the more light effects there will be. Aunt Arctic said that the lights change because of special sensors in the floor.
Community content is available under
CC-BY-SA
unless otherwise noted.