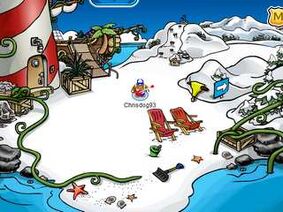 The
Beach
is the
Room
where the entrance to the
Lighthouse
is located. Every three months,
Rockhopper
comes by on the
Migrator
and docks here. The path to the north leads to the
Ski Village
while the path to the right leads to the
Dock
. The
Lighthouse
wasn't available for
penguins
before the
Lighthouse Donation
. There are two beach chairs and a bucket for
penguins
to make a snow-castle out of. The beach is a rather quiet place, it is not very crowded. But, when the
Migrator
arrives, the beach is fairly crowded.
During the 2007 Summer Kickoff Party, The Penguin Band played on a wooden platform on the Beach.
During the 2007 Waddle On Water Party, there was a burger hut at the Beach.
During the 2007 The Fair, there was a table with snow cones spread out.
During the 2008 Winter Fiesta, there was a taco stand at the Beach.
During the 2010 Puffle Party, the Puffles where playing together building sand castles.
This was one of the only rooms not decorated for the St. Patrick's Day 2009 party.
During the 2010 April Fools Party, the door of the Lighthouse was in the not attached to the Lighthouse itself, and you could change the sky by clicking on it.
During the 2011 April Fools Party, you could teleport inside the Lighthouse from the Ski Lodge.
During the Underwater Expedition, this room was completely submerged, with only the Beacon above the surface.
On the video in the EPF Command Room there is an elevator under the buoy. This may be a secret entrace in the future.
The beach is the only place to get on the Migrator.
Maybe if there is a summer party,the Beach might be litteraly a beach.
Community content is available under
CC-BY-SA
unless otherwise noted.