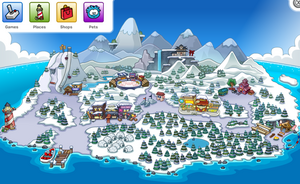 The Map is the main feature on Club Penguin for traveling across the Club penguin island. It can be accessed by clicking the map icon on the buttom left corner of the screen, and contains most of the places of Club Penguin.
The map experiences seasonal changes when the Stadium and Ice Rink switch out.
The Map was decorated for the first time during the Holiday Party 2009. The second time happened in Halloween Party 2010. The third time it happened was during the Holiday Party 2010.
Rockhopper and the PSA Headquarters have their own map.
Hours before the map update, on June 27, 2011, the map and the blue toolbar were gone. This wasn't a bug- it was part of the New Map improvement. they were added again as the new map was released.
There is also another map released for the Rockhoppers Quest, which is found in the Migrator. It shows all islands surrounding Club Penguin Island.
After the new map was put up it appears a lake at the bottom of the map where new penguins started there. Its also appeared during the Wilderness Expeditation 2011 and the awesome guide to Club Penguin which shows a new place coming soon.
The map during Rockhoppers Quest explains there is a unexplored island because the top of the map has been ripped off.